Working on Commission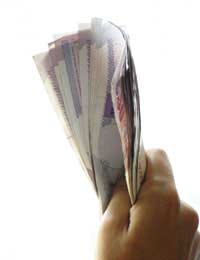 The term 'commission pay' can have many people running for the nearest exit but the fact is that in retail, most commission based payment schemes are used as incentives on top of a basic salary or hourly wage and there are very few commission only based jobs, unlike in some areas of field sales.
How to Approach a Commission Based Pay Structure
Providing you are also receiving a basic wage, an additional commission based payment incentive is usually there to motivate you into achieving your best so the fact that you're getting paid extra to do what, in reality, you should be doing anyway – i.e. giving of your best, is purely extra motivation.
It's important, however, to establish the framework of how any commission payment is going to be made. In other words, find out the targets or the criteria you need to aim for so you can set yourself a goal. Your immediate boss or supervisor will be able to coach you and give you tips on how you can reach and exceed your targets. In a retail environment, training techniques such as upselling and cross-selling are two very useful way of increasing sales which is what nearly all commission related payment schemes are going to focus on.
Managing Your Finances
The important thing to remember if you're on a basic salary, plus commission is to treat the commission aspect as purely a bonus. Therefore, when it comes to managing your finances you should simply take your basic wage as the benchmark figure then work out all of your income and expenditure around that figure and budget accordingly.
Don't make the mistake of believing that you are definitely going to hit or exceed a certain target each month and draw up a budget around that as you can never be guaranteed that you will always earn a certain amount of bonus. Simply view the commission as the 'icing on the cake' and use that money for putting towards a treat for yourself or, perhaps, you could set aside the commission to save for things like a holiday or a car, knowing that all of your other budgeting needs have been met.
Commission Only
If you do decide to take on a commission only role, be very sure that it is genuine and that you have a realistic chance of making a liveable wage out of it. It's sad but true that some companies will attempt to lure people into commission based roles by promising rewards in terms of commission payments that are simply false or ultimately unachievable. That's not to say all commission only jobs in retail are like that. However, budgeting on a totally variable wage is a lot harder. If you're just starting out, it's always good to ask others who may also be working in the role what their average weekly or monthly wage is likely to be.
An idea when budgeting is to live really frugally for the first couple of months and set aside some of your earnings into a 'rainy day fund'. Then assess how well you've been doing and draw up a budget that you perceive on an average month will still cover your expenditure and then live to those means. That way, should you encounter a month or more where your earnings dip below your predictions, then you can use money that you've set aside in your rainy day fund to cover your bills. Do remember, however, that when budgeting for the next month, you'll also need to factor in cash that you're going to have to use to get your rainy day fund back up to where it was before.
It's also important to try and find out if there are seasonal peaks and troughs in the amount of money you're likely to earn. For example, perhaps you're more likely to earn better commission in the run up to Christmas then perhaps January will be really slow. The crucial thing here is to try to form an overall annual picture of your earnings potential which will help you to budget better.Therefore, commission based roles can provide an excellent incentive if they are attached as part of a basic salary package but with commission only jobs, you need to be a little wary and plan your finances carefully.
You might also like...