Do you Have the Right People Skills?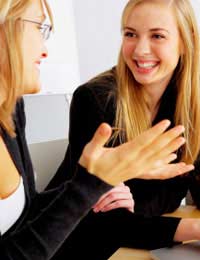 Whilst people who work in retail have a number of different skills which all combine together to work effectively, it's often people skills – which are often referred to as 'soft skills' - which can make all the difference and give your company the edge over the competition.
People skills are basically the interpersonal skills which require you to be able to communicate effectively in order to build relationships both within a company or organisation and externally with both suppliers and customers which is of paramount importance, especially in retail.
The Importance Of Understanding People As Individuals
This is probably one of the most important people skills you can possess. Understanding individuals and relating to them in different ways is something that all people are able to do on a daily basis in their personal lives. For example, whether consciously or subconsciously, you'll probably relate to your mother, your brother, your auntie and your best friend in 4 entirely different ways, even if you're not aware of doing so. The secret of this is to be able to translate it to the world of work.
We all come to work as individuals with very different values and perspectives on life with different personalities and senses of humour. Then, there are the people you need to deal with externally which is very important in the retail sector. Remember here too that the external suppliers and customers will all have their own cultures and beliefs that are likely to be different to that of your own organisation. Therefore, it's crucial that you try to get to understand the people with whom you come into contact with at work as individuals and to try to relate to them in a way which they understand and appreciate. Especially where customers are concerned, this will impact upon sales ultimately.
Confidence in Expressing your Thoughts
The retail sector is constantly evolving and a company would simply end up standing still if none of the workforce was prepared to speak up and suggest alternative ways of doing things or if you didn't feel comfortable about expressing ideas that you think might benefit the company. Therefore, an important people skill is in having the confidence to express your thoughts and ideas and it's also important for a company to create an environment in which this is encouraged. In doing so, this is likely to result in increased sales down the line.
Asking For and Giving Feedback
The retail industry relies on people who are willing to take on new challenges and to take occasional risks and there's no problem in taking risks as long as the benefits of doing so far outweigh the consequences of the risk of failure. In order to make an assessment of this, an important people skill is the ability to react well to receiving criticism as long as it's constructive and it's also important for you to feel comfortable in airing your own viewpoints too. This is not about being aggressive or criticising for criticism sake but it's a healthy people skill designed to both give and obtain feedback so that people know whether what they're doing at work is having a positive benefit on the business as a whole or whether adjustments or different working practices need to be considered.
Other important people skills in retail include:
The ability to collaborate and to work as part of a team
The ability to influence others and having powers of persuasion
The ability to identify and resolve conflicts quickly and not to let them linger under the surface in order that they don't simply become personal grievances between individuals as that can reflect badly on a company
The secret to good people skills is in learning how to get the best out of yourself and out of others. As a result of doing that, a company will be far more productive, morale will be high and the staff will be more motivated to succeed as a direct consequence.
You might also like...
@chickco. Good luck finding a job...we hope you find this site helpful.
ACareerInRetail
- 29-Jan-15 @ 10:12 AM
I was browsing jobs because l am unemployed.
chickco
- 27-Jan-15 @ 1:14 AM