Becoming a Retail Manager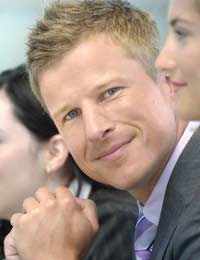 One of the basic primary responsibilities of a retail manager is to make sure that their stores attract and retain customers and in order to achieve that, they need to ensure that their staff maintain excellent levels of customer service. This means that they need to be able to both manage and motivate staff in order to increase sales and to improve efficiency.
Their role will also include making sure that the shop floor's shelves are filled and set up in such a way that they are appealing to customers and that they are replenished regularly and more supplies ordered when needed. Other duties may include dealing with queries from both staff and customers, especially where dealing with customer complaints are concerned as well as matters regarding health and safety issues.
How Do You Become a Retail Manager?
There are many different routes into becoming a retail store manager. Some managers start their career out on the shop floor themselves and work their way up by gaining more experience combined with internal training which, in some cases, might be linked to appropriate qualifications. Others will enter having completed degree or HNC/HND studies and then enrol on a company's in-house management training programme. In some stores, it's also occasionally possible to enter one of these in-house programmes with just A level qualifications.
What Do In-House Programmes Entail?
If you embark upon a store's in-house training scheme, it will normally last for up to 2 years. After an induction period, the programme is likely to combine in-store training with classroom-based learning and training which will either be done at college or at a company's own training centre. It is also possible, in some cases, for a retail store to sponsor you in other further career development training opportunities – for example, management training courses and MBAs.
Depending on the size and resources of the company, you may also get the opportunity to experience work within some of the supporting operations departments such as finance, marketing, buying and human resources. This will help you to not only broaden your knowledge and experience but so that you can gain a firmer understanding as to how each of these divisions combine to form the complete chain of operations.
Personal Qualities Required
It's important that you have good leadership skills if you want to become a retail store manager and that you're prepared to take on responsibilities. You can be faced with many different issues over the course of any day's trading and will encounter many different types of people which could include store staff, senior management and customers, and not always happy ones either.
So you'll need to be well organised, able to communicate at all levels, comfortable with making decisions and lead by example. You'll also need to be flexible as you're likely to have to work shift patterns which can include evenings and weekends and, if you're looking to progress, you may need to be prepared to relocate to other stores if you want promotion and career development to occur more quickly. A smart appearance is also a pre-requisite.
Salary
Pay scales can vary tremendously depending upon the size and scope of the company but it's not uncommon for trainee retail managers to earn anything between £17,000 and £26,000 although some may start off at a lower or higher salary. Top managers with several years of experience in prestigious organisations can often be paid an annual salary in excess of £60,000.
You might also like...