Opportunities Abroad in Retailing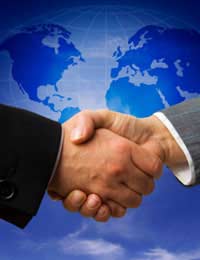 Retail may not present quite as many career prospects as other industry sectors for working abroad but there are still some opportunities to be had, especially with the EU continuing to expand. Working in retail can cover many different jobs and it could be that you are looking to use a travel work experience abroad to develop your career and, in some cases, it may be absolutely necessary to travel overseas regularly in a particular role – buying, for example.
For others, they may want to leave the UK for good and emigrate abroad and work for a retail company then there are also some people who are simply looking to obtain a seasonal job in retail and then return to the UK afterwards. Whatever you're looking for, here are some useful tips.
The Role of the Buyer Abroad
A buyer's role in retail is probably the most likely to see you being presented with the opportunity to travel abroad with your career. As the person who's responsible for sourcing products or materials with which to manufacture products, the company you're working for will often have established links with one or more overseas suppliers in order to get the best quality goods or materials at the lowest price.
Therefore, your role might call for regular periods travelling not only throughout Europe but, perhaps, to far flung places like Africa and Asia. Food retail is another area where buyers can be sent all over the world to source produce at the right price for our supermarkets. Good examples are things like fresh meat, vegetables and fruit which are often sourced from the other side of the world.
Fashion Retail
Specialising in fashion retail will possibly offer you even more of an opportunity to travel abroad. For buyers, much of the clothing and materials used in the production of mass market items are sourced from the Far East these days and, if you are working in the more exclusive area of 'high fashion', there are many European fashion centres – Milan and Paris being good examples – where you'll probably get the opportunity to attend trade shows, depending on your role. If you're looking for fashion production opportunities overseas, both Portugal and Greece have started to attract more UK graduates but it's often easier to obtain this kind of work if you can speak the native language.
The EU
Because of the free market within the EU, you do not need to obtain any kind of work permit to work within an EU country so, depending on what you want to do, you can apply to work in a retail capacity within an EU member state. Once again, however, unless you're offering a skill or expertise which is desperately in demand, you're going to need to be able to speak the language of the host country.
Outside the EU
Opportunities for people who seek a career in retail outside of the EU are going to be more limited because of work permit restrictions. Your best bet in this instance is to work your way up in a UK based company which has business interests overseas.
Casual Employment Abroad
Getting a job in retail abroad isn't all about career development, however, nor do you always need to have foreign language capabilities –although they often help. You might want to find casual seasonal retail work abroad as part of a wider focus on travelling and working overseas for a set period. Places to look for this type of work might include:
Cruise ships
Ski resorts
Beach resorts
Theme parks
If you're looking to develop your career in retail overseas, your best bet is to seek out potential opportunities through your existing company. However, if it's casual work you're interested in, there are many specialist agencies on the Internet which offer to help find casual seasonal jobs overseas in retail.
You might also like...