I Started My Own Clothes Boutique: Case Study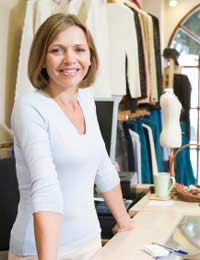 When Clara Selwyn, 31, came to us to ask for some advice about her career in fashion retail, she was keen to take her successful career up a level.
Career Advisor's Casebook
Having completed a fashion merchandising degree, Clara had worked for a high street fashion chain for seven years, working her way up their graduate training scheme.
She was passionate about fashion and loved elements of her job, but was feeling disillusioned about where her career could go next.
Clara told us, "I'm really excited by changing fashions and understanding what customers want – seeing looks at Fashion Week and anticipating what will filter down to the high street."
Likes and Dislikes
The key elements of the job that appealed to Clara were the merchandising and buying aspects of running a clothing store, but she was less keen on the office politics and regulations that come with being part of a large organisation. Clara was looking for advice on the next stage in her career as she was drawing a blank as to how she could utilise her experience without just going for a similar role in another organisation.
Talking to Clara, it was clear that she was very skilled at her job and had a natural talent for spotting fashions. We also talked about the customer service element of the role, dealing with different members of the public and handling problematic situations.
Clara said, "I love talking with customers, finding out what type of outfit or piece their looking for and then seeing their faces when I find the perfect thing. What I don't like is all the gossiping and bitching in the canteen and the fact that we have to display clothes in a certain way, even though I'm sure I could do it better."
Lack of Potential
The problem was that there was very little scope for fashion buying in her present role as this function was outsourced, so she was not able to see a future for herself at her present employer. As we talked, Clara mentioned a number of ideas she had had about running her own fashion boutique but that was just a dream. Throughout the consultation, she repeated this dream and we asked her what was stopping her from making it a reality.
Clara told us that she felt the start up costs would be prohibitive and that she would miss the security of having a salaried job, but it was evident that she would be able to work part time with her current employer thanks to a flexible working arrangement they had introduced.
Making the Dream a Reality
By the second careers advice consultation, we had found out about various funding schemes that would support Clara with start up costs for her dream clothes boutique. In addition to national government schemes, there were also a couple of local initiatives to help new businesses open up in currently un-let properties in areas which suited Clara's target audience.
This positive information helped Clara to write a detailed business plan, which she took to the business manager of her bank. She secured some funding to help buy stock, but not so much that she felt too in debt. Clara said that she really felt her dream clothes boutique was becoming a reality when she was able to make appointments with buyers she had met previously and they were obviously keen to hear from her!
Names have been changed.
You might also like...
Hai i m hari 22 , from chennai,i m doing my bas fashiindesigning 3rd year.i am much afraid of my carieer what can i do after my gradution
Hari
- 23-Jun-18 @ 3:08 PM