Questions you Might Be Asked at a Retail Interview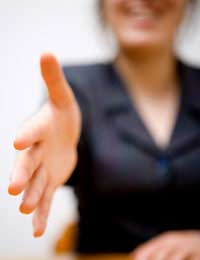 The typical questions you should expect to be asked at a retail interview will usually consist of those which are designed to find out whether or not you have the right skills, personal qualities and temperament to succeed. The company will also want to know a bit more about you as a person too.
Here are some of the more typical questions you may get asked at a retail interview and, where appropriate, what you should be considering as a response.
Questions Related to the Job
Companies will be keen to know what are your perceptions of the job they have to offer.
What do you think the role entails? – quite often people apply for a job without having the faintest idea of what they think the job entails so make sure you do your research.
Do you think a 'fast' or 'friendly' service is most important in retail? – here they are trying to find out what you feel are the most important priorities in the role. The question here relates to a sales/customer service role but could be adapted to other roles too.
If a skirt usually costs £20 but there's a sale offer of 10% off and the customer wants to buy 3 skirts, how much in total will they be spending? – here they want to find out whether or not you have basic arithmetic skills. Even though tills are computerised these days, most retail companies will want you to have a basic grasp of Maths at least. By the way, the answer is £54!
What do you think are your best qualities and weaknesses? – here it's always useful to try and showcase your best qualities by giving examples that illustrate the qualities they have specified they are looking for in the job advertisement. If you've made a speculative application however, you should still try to answer this by giving answers that are relevant to the job.
When it comes to stating a weakness, try to pick one in which you can accentuate the positive. Good answers to this type of question include saying that you once had problems with planning and organising until you started using an online diary scheduler which you've now got down to a fine art. Note that a lot of people will answer this by saying they work too hard but employers know this is a copout answer so do come up with a legitimate weakness but also illustrate how you've overcome it.
Scenario Questions
You may be given a couple of scenarios and asked how you'd react:
Can you give me an example of when you were faced with a difficulty at work. How did you overcome it? – this is an often asked question at a retail interviews as they want to be sure you can think on your feet and can overcome problems.
An irate customer is screaming at you across the counter because they are not happy with the product you've supplied them with – how do you get them back on side? – here they want to see how you handle pressure and get the customer back in favour.
Questions About You
Other questions might be asked to find out a little more about you as a person. These might include:
What has been your greatest achievement?
Who was your favourite boss and why?
What do you enjoy doing in your spare time?
In reality, you cannot hope to second guess the full range of questions you might be asked. The important thing about a retail interview is to prepare some general answers for questions that might come up. Even if they don't, by doing the preparation, it's likely you'll be able to adapt some of the answers to suit a different question. Also, make sure you've done a little research about the company itself. Interviewers like it if you can demonstrate you've took the time and effort to find out something about them too and try to come up with one or two interesting questions you can ask them as well.
You might also like...