Research the Company Before your Interview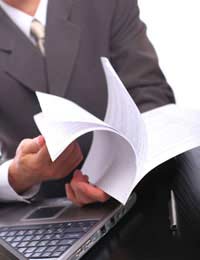 It's important to carry out some research about the company you want to work for before you attend the interview for several reasons.
Reasons Why You Should Research The Company
Firstly, interviews are a two-way process and, in addition to the company wanting to find out if you're a suitable candidate, it's just as important to find out all you can about the company to ensure that they're right for you too if you do get offered the job. Secondly, whilst most interviews are not set up to intentionally 'grill' you about what you know about the company, there's bound to be at least one or two questions which you'll be able to answer far more confidently as the result of having some knowledge about the company.
For example, you may get asked why you want to work for the company or even what you think of their latest advertising campaign. Therefore, by being able to apply some knowledge of the company in answering these questions, the interviewer will be impressed that you've done your homework which will demonstrate your interest and commitment to working for them.
Finally, the interviewer will almost always ask you if you have any questions at the end. Whilst many people will simply ask questions such as "what's the salary and how many holidays am I entitled to?", interviewer's are more impressed if you demonstrate you know something about the company itself. So, for example, a good question might be, "I noticed you laid off 100 staff last year. As I'm looking for career progression in the long term, how would you convince me that you can fulfil my career expectations?"
How You Can Research The Company
There are many different ways in which you can find out more about a particular company. Most companies have a website presence these days and they are a great place to find out more about a company. Pay particular attention to the sections below if the website has them:
Products and services
Meet the team
About us
History
News and information
Competitors
Retail is all about sales and outsmarting the competition so do your homework on which companies are the main competitors of the one you're interested in working for. Company directories online are often a good way of doing this. By being able to drop in a competitor's name into the interview somewhere along the line, the interviewer will be impressed by the fact that you are aware of what its main competitors have been up to which is an important awareness to have in retail. It also demonstrates your commitment.
Check Out Business Websites
Find out what you can from reputable business sites. Business Week, the Financial Times and directories like Hoover's UK are useful sites where you can pick up 'nuggets' of information as well as Forbes and Fortune 500 if the company is American owned. Blogs have become more widespread amongst businesses too so use a search engine to see if you can locate any company blogs which may have been written by some of their top executives. Libraries are also a good source of finding out company information. Additionally, it does no harm at all to call the company up before the interview and ask them if they can supply you with any brochures or other literature.
In doing your research, the company will be impressed that you've gone to the effort of finding out a little more about them and it can certainly give you the edge in interviews where, in a situation where two candidates are closely matched, you can be offered the job simply by having took the time to do your homework.
You might also like...