How I Learnt to Deal With Difficult Customers: Case Study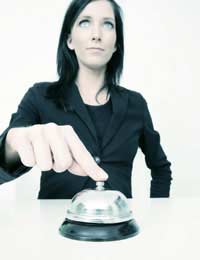 Carol Purcell, 29, worked as an assistant manager in a high street shoe shop but was finding that her lack of assertiveness when dealing with difficult customers was holding her back.
Career Advisor's Casebook
Carol was keen to gain some positive skills that would help her to overcome her issues with argumentative customers and be able to maintain control. Although she had attended some training in these issues in the workplace, she had not yet come across any techniques or suggestions that clicked with her, so she came to ask for professional advice from a third party.
Talking About Difficult Situations
We started by asking Carol about the type of situation that troubled her, to talk us though some examples of difficult customers. She told us, "I often find that a difficult customer is fired up before they even get in the shop, so I can see them coming at me all angry. This already makes me feel nervous before they have even started ranting and raving. I find that I am unable to calm them down because they usually want a refund without a receipt, which I can't give them because of company policy."
We were able to see that Carol was preemptively stressed about difficult customers, which in turn raised their hackles and exacerbated the situation. We also pointed out how 'hiding behind company policy' can be very frustrating to an already irate customer.
Carol told us, "I seem to forget about how I feel as a customer when I am faced with someone ranting and raving, so I just wind them up rather than calm them down. As I've had some training in this area I am sure it is not helping with my chances of promotion, so I am really keen to learn how to manage it better."
We suggested to Carol that she learnt how to anticipate some of the common issues that angry customers have and to appreciate that some people cannot actually be pacified. We also talked though some general assertiveness points that would help to change how customers first thought of her.
Underlying Issues
We asked Carol about her posture and her physical fitness and at this point she became quite emotional. This seemed to unlock something in Carol and she told us that she was struggling with her weight and felt very self-conscious of her size.
The role of a career consultant is often far more psychological than people expect, as there is usually some underlying reason why people are underperforming at work or allowing themselves to miss exciting opportunities. It was important that we encourage Carol to address her weight problems in order to improve her assertiveness at work, but it seemed that the two issues affected each other.
By encouraging Carol to start a 'boxercise' class, where boxing techniques are incorporated into an exercise class, she was able to gain confidence in both areas.
Within three weeks of starting the classes, Carol felt more able to deal with difficult customers and found that she was steadily losing weight as well as gaining confidence.
Names have been changed.
You might also like...