What Does a 'Buyer' do?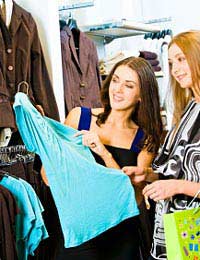 A retail buyer is responsible for sourcing new products and analysing the success of existing goods to ensure that the company and its products remain competitive. Underpinning all the aspects of the role is a duty to understand what customers' needs are and to be able to meet those needs. In doing that, a buyer needs to research, plan and choose the range, type and quality of the products they source. This will usually be based upon consumer demand, industry trends, budget and the store's overall policy. To help them to achieve this, a retail buyer must have a good understanding of the market within their particular sector and they must be able to predict emerging trends and react quickly to changes in consumer demand.
Main Responsibilities of a Retail Buyer
A buyer's role in retail covers a multitude of tasks. In addition to the above, they must have a firm grasp of managing sales and understanding margins. They can expect their role to encompass areas such as inventory management, planning and forecasting, dealing with contract negotiations and they'll work in close liaison with the likes of the merchandising and operations teams. They will also research and identify opportunities for growth and it will be necessary to forge close relationships with vendors.
The role of a retail buyer is often perceived as being one of the more 'glamourous' careers within the retail sector as it gives you a great deal of autonomy and responsibility and is one of the best retail career options to choose if you are looking to travel as you'll often be required to travel overseas to seek out new products and opportunities.
Typical Duties
Depending on the type of retail sector the company operates within, a buyer's role can vary according to the 'season'. This is particularly the case if you work in an area such as fashion where you'll often be based at head office with frequent visits to the shop floor during the out of season, yet during the buying season, you could be travelling a lot, often overseas, to source new merchandise for the forthcoming season. Some typical duties of a buyer might include:
Meeting with suppliers and negotiating terms of contracts
Attending trade fairs both in the UK and abroad
Producing reports with sales forecasts as well as analysing sales figures
Liasing with staff on the shop floor to ensure that supply meets demand
Managing stock levels and reacting to changes in consumer demand
Researching new trends and products
Experience
You would normally be expected to have a degree level qualification in the likes of business studies, economics, marketing, retail management or a related subject and would also need to have good grasp of computers. Foreign language skills can also help if your company trades with particular companies overseas where English may not be spoken widely. Your communication and interpersonal skills should be first rate as you are going to encounter a vast range of people within this multifaceted role and you should have strong analytical and numerical skills.
A retail buyer's role is one of the most attractive and competitive roles to work in and it is never dull but it is hard work and often quite pressurised.
You might also like...
Hi I would really like to become a retail buyer...i have worked in several different areas of reatail for some time now ie; cashier, vendor for several companies. Is there a position for assistant retail buyer? I think I need to start there because I don't have time to go back to school...I will have to work with what I have. I have an Associate degree in Business. barbara
barbara
- 23-Dec-13 @ 3:39 AM
Blair, the easiest but not the most glamorous way would be to get into retail management. Work your way up until you get some management or supervisorial experience and get fimiliar with buyers in your organization. Another way would be to get into a supervisor in trianing program in supply chain. Preferably where the organization's end product ends on retail shelves. The supply chain experience in very valuabe as you would understand inventory management/control and how the process works from the inside. This is a good option as many organization are more apt to hire from outside the company in a situation such as this. I worked my way up in retail management, gained some exprience, networked, and started as a replenishment buyer, which is a good stepping stone for future senior buying positions. Hope this helps!
How to Delight Customers coming with grievances by extra ordinary servicing
Sagar
- 25-Jul-12 @ 6:34 PM
If I don't have a degree like economics, business study and etc. What should I do? Now, I'm studying in Architecture. Not graduated yet. I would like to be a buyer more than an architect. Can you have a suggestion what should I do next? Study a master degree? What is the best choice of business school to study? Thank you. P.S. Please answer this question on my e-mail. I'm not sure about my grammar because my country didn't use English. So if it spell wrong or has any mistake, I'm so sorry.
Blair
- 2-Dec-11 @ 4:04 PM