Careers in the Fashion Retail Industry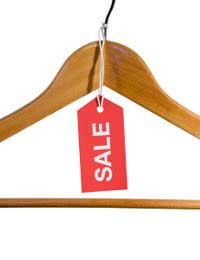 It would be fair to say that many people who are considering what kind of career to embark upon will often overlook the fashion retail industry as they'll equate it with shop floor work or simply working as a cashier. Others might think that it's simply too chic or too glamorous to consider as a career. However, just as in other retail sectors, there is far more that goes on behind the scenes and a wealth of career opportunities to pursue.
Let's take an example of a pair of jeans. Ultimately, the aim is to get them onto the shop floor so that they can be sold. However, the process of actually getting them there involves numerous activities first. These will include:
Buying
Design
Merchandising
Marketing
Logistics
Distribution
Information systems
Finance
Human resources
Therefore, it's clear to see that there are far greater career opportunities in fashion retail than simply working in a shop on a till.
Here is a brief rundown of just some of the career directions you can go into within fashion retail.
Department Manager – responsible for overseeing all of the activities within a particular department of a larger store. Your role would include training and supervising sales staff and you would have a major say in how your goods are displayed
Logistics and Distribution – you would be responsible for allocating merchandise to the various branches of your store and you'd work closely with the buyer to serve the needs of customers
Buyer – you would be responsible for buying in the latest fashion items that are in 'vogue' or it could be buying in materials to manufacture your own range of clothes

Designer – as fashions come and go, your role as a designer would be to keep abreast of the latest trends within the fashion industry as a whole and to come up with innovative designs that you know your customers will appreciate and which will have them racing to the store to buy the latest trend-setting items
Visual Merchandiser – you would be responsible for setting up your store displays in such a way that they create the most appeal to your customers. You might be responsible for promoting an end of season clothes sale one week and setting up your store in such a way that you maximise the potential to clear out all your company's stock before new fashion lines come on stream
Brand Manager – a brand manager is one of the most important roles in retail, especially in fashion retail where new seasons and new lines are coming out all the time. Therefore, you need to create a want or need in a new fashion item so that it'll be all the rage when it's launched and all your customers will want to have it
The full range of career options within the fashion retail sector are vast and as trends are only short-lived as consumers seek out the next 'must have' item of clothing, it's an industry which is constantly evolving and is never dull to work in so it will suit those who enjoy, fast paced, even hectic, environments.
You might also like...